Factsheet
Developer
1 Simple Game
Based in Zapopan, México.
Release date
Coming Soon
Platforms
Website
Regular Price
Description
Conquer different planets at war by hacking and slashing through plant foes in roguelike-style missions. Watch over your mothership to unlock, upgrade and customize Jelly characters for accomplishing objectives and defeat powerful bosses!
History
As it's customary for the studio, the inspiration for the setting and characters of I'm Not Jelly arose at a Global Game Jam. The theme was "Transmission". The first iteration was a local action multiplayer. The concept was liked by the studio to keep working on it, and from a concept art made by the Art Director in June 2020, the better-accepted idea was the hack 'n slash that ended up as this version of the game, which was begun in December 2020. I'm Not Jelly is a breaking point for 1 Simple Game, because it would be our first game on PC/console. Another challenge will be changing the business model from free-to-play to Premium. With the help from our community, we hope to overcome this trial.
Features
Combines war conquest with roguelike mechanics in procedural missions.
A skill-based rogue-lite, explore different planets composed of rooms with objectives to complete.
Use different Nojellian characters where each one of them has unique attacks, abilities, and skills.
Unique perks and skills influence each attempt, putting a twist on every action.
Multiple enemies with powerful champions and deadly bosses to face off against.
Beware of death, if defeated, the Plantizards will consume the Nojellian body and become stronger.
Logo & Icon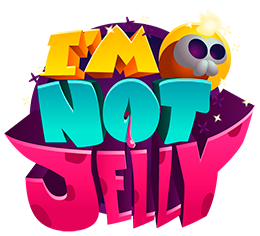 Awards & Recognition
Global Top Round - Generation 2021 Winner

Rogue Jam - Finalist Audience Choice Award

Latinx in Gaming Conexion - 3rd Place

GamesweekBerlin Dev Booster - 3rd Place

GamesweekBerlin Dev Booster - Audience Choice Award

Las Maquinitas Ventana Sur - Zvook Award Winner

Xsolla XDC Latam Developers - Finalist

About 1 Simple Game
1 Simple Game was built at the beginning of 2013 to develop games for clients and original IPs. In April 2014 our first game was released, Mugogy Jump! Which came out for PS Vita and smartphones iOS & Android. Our next release, Mucho Taco, came out in September 2015 for iOS & Android and became a global hit, with over 2.1 million downloads and winner of several acknowledgments, such as "Best of App Store" by Apple. In November 2017 Deus Cult was released, a niche strategy game. In 2019 we were selected by Google for their program Indie Games Accelerator, for which 30 studios were selected (from over 1700 applications) from emerging countries all over the world to take part in an in-person Bootcamp in Singapore, and of virtual mentoring. June 2020 is a milestone for the studio because we released The Lullaby of Life in the Apple Arcade service. Right now, we're in the middle of development for 2 new games, "Chronoloop" and "I'm Not Jelly".

More information
More information on 1 Simple Game, our logo & relevant media assets are available here.
Credits
Francisco Lara Sikorski
CEO
Ovidio Ecobedo
Game Director
Román Murillo
Lead Game Designer
Jorge Silvadoray
Art Director
Augusto Vázquez
Technical Director
Karina Lomelí
Game Producer
Diana Limón
Public Relations
Ricardo Ibarra
Technical Artist
Heriberto Morales
Senior 2D Artist
Ricardo Paredes
Senior 2D Artist
Jorge Diez
Cinematics Composer
Edgar Rodríguez
3D Artist
Jonatan Morales
3D Artist
Miguel Reyes
Technical Animator
Issac Ochoa
Game Programmer
Lupita Macedo
Game Programmer
Luis Durán
Game Programmer
Gaby Delgadillo
CTO & Producer
Luzia Hopfner
New Business
Fátima Pastrano
CFO
Karina Pérez
Office Manager