Especificaciones
Desarrollador
1 Simple Game
Based in Zapopan, México.
Fecha de lanzamiento
Próximamente
Plataformas
Sitio web
Precio regular
Descripción
Conquista diferentes planetas en guerra con un combate hack and slash contra enemigos plantas en misiones estilo roguelike. Utiliza tu nave nodriza para desbloquear, mejorar y personalizar personajes Jelly para completar objetivos y ¡derrotar poderosos Jefes!
Historia
Como ha sido costumbre del estudio, la inspiración para el mundo y los personajes de I'm Not Jelly surgieron en una Global Game Jam. El tema era "transmisión". Era multiplayer local de disparos en su primera iteración. El concepto fue del agrado del estudio para trabajarlo más y a partir de un arte conceptual del Director de Arte hecho en junio de 2020, la idea mejor aceptada fue el Hack 'n slash que acabaría siendo esta versión, iniciada en diciembre del 2020. I'm Not Jelly representa un punto de quiebre para 1 Simple Game, porque sería nuestro primer juego que llegaría a PC/consola. Otro reto será cambiar el modelo de negocios de free to play a premium. Con la ayuda de nuestra comunidad esperamos superar este desafío.
Características
Un rogue-lite basado en habilidad, explora diferentes planetas compuestos de cuartos con objetivos a completar.
Utiliza diferentes personajes Nojellians donde cada uno cuenta con ataques, habilidades y características únicas.
Diferentes perks y habilidades influyen en cada intento, creando un giro en cada acción.
Enfrenta múltiples enemigos con poderosos campeones y letales Jefes.
Ten cuidado de la muerte, si eres derrotado, los Plantizard consumen el cuerpo del Nojellian y se vuelven más fuertes.
Logotipo e ícono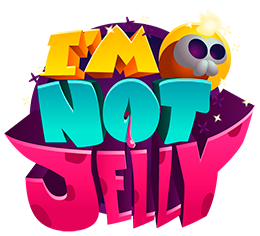 Premios y reconocimiendos
Global Top Round - Ganador en Generación 2021

Rogue Jam - Finalista Audience Choice Award

Latinx in Gaming Conexion - 3er Lugar

GamesweekBerlin Dev Booster - 3er Lugar

GamesweekBerlin Dev Booster - Audience Choice

Las Maquinitas Ventana Sur - Ganador de Premio Zvook

Xsolla XDC Latam Developers - Finalista

Acerca de 1 Simple Game
1 Simple Game was built at the beginning of 2013 to develop games for clients and original IPs. In April 2014 our first game was released, Mugogy Jump! Which came out for PS Vita and smartphones iOS & Android. Our next release, Mucho Taco, came out in September 2015 for iOS & Android and became a global hit, with over 2.1 million downloads and winner of several acknowledgments, such as "Best of App Store" by Apple. In November 2017 Deus Cult was released, a niche strategy game. In 2019 we were selected by Google for their program Indie Games Accelerator, for which 30 studios were selected (from over 1700 applications) from emerging countries all over the world to take part in an in-person Bootcamp in Singapore, and of virtual mentoring. June 2020 is a milestone for the studio because we released The Lullaby of Life in the Apple Arcade service. Right now, we're in the middle of development for 2 new games, "Chronoloop" and "I'm Not Jelly".

More information
More information on 1 Simple Game, our logo & relevant media assets are available here.
Créditos
Francisco Lara Sikorski
CEO
Ovidio Ecobedo
Game Director
Román Murillo
Lead Game Designer
Jorge Silvadoray
Art Director
Augusto Vázquez
Technical Director
Karina Lomelí
Game Producer
Diana Limón
Public Relations
Ricardo Ibarra
Technical Artist
Heriberto Morales
Senior 2D Artist
Ricardo Paredes
Senior 2D Artist
Jorge Diez
Cinematics Composer
Edgar Rodríguez
3D Artist
Jonatan Morales
3D Artist
Miguel Reyes
Technical Animator
Issac Ochoa
Game Programmer
Lupita Macedo
Game Programmer
Luis Durán
Game Programmer
Gaby Delgadillo
CTO & Producer
Luzia Hopfner
New Business
Fátima Pastrano
CFO
Karina Pérez
Office Manager